Marion and Marc on Lindblad's West African Odyssey
March 23 - April 28, 2012
Commentary by Marion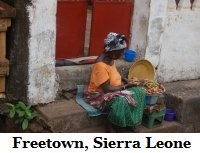 Hello – or Kushee-Oh, as the locals say

Sierra Leone is among the top diamond producing nations in the world, and among the largest producers of titanium, bauxite and gold (and lots more). But despite this natural wealth, 70% of its people live in poverty. These people are virtually used as slave labor and work under atrocious conditions. The per capita income is estimated at a dismal $780.

Although English is the official language, the primary communication is in Krio (derived from English and several indigenous African languages) which unites all the different ethnic groups.)

Between 1991 and 2002 the civil war devasted the country and its infrastructure and left more than 50,000 dead; over 2 million people were displaced, mainly to Guinea, which became 'home' for about 1 million refugees.

The pictures I chose should give you a pretty good overview of the state of affairs. It's definitely not all good, but it's also not all bad. The spirit of the people seems to be alive and well – for the most part. We have learned that Africans are very forgiving people. You may have seen programs on TV where victims of rape, mutilations, etc. have reunited with their attackers and forgiven them. Unbelievable.

During the evening we were introduced to the U.S. Ambassador, Michael Owen, and Shawn Davis' friend, Mustapha Wai. Shawn (who was in the Peace Corpse in Mali) had a chance meeting with him in Washington, DC. Mustapha's story about his time as a refugee in Liberia and his resettlement to the U.S. would just bring tears to your eyes. He has become quite a success story. He is engaged with his former community to assure them of textbook and sports supplies, an empowerment initiative that focuses on the establishment of a cooperative agricultural project. Beyond that he is now working with them to build the first middle and high school. It doesn't get any better than that, does it?

Due to a fire the night before we could not visit the Chimpanzee Sanctuary. Thankfully everyone was ok.

Then we had a concert aboard and listened to the Refugee All Stars. These are 'kids' who were in refugee camps and decided they needed to do something to distract them from the daily grind and conditions they had to live under. They certainly excited us. Last year they gave a concert in Washington, DC.

What can I say? Not bad, fine......... or in Krio – no bad, bodhi fine!

Tomorrow is a day at sea and then we'll be in The Gambia on 4/20.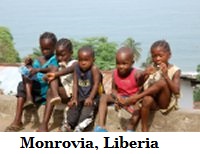 Hi,
In 1820 the region was colonized by freed American slaves with the help of the American Colonization Society, a private organization that believed ex-slaves would have greater freedom and equality in Africa. In 1847, these colonists founded the Republic of Liberia, establishing a government modeled on that of the US. The capital is named after James Monroe, the 5th President of the U.S. You have to ask yourself how this went over with the people who already lived there.

We didn't arrive until the afternoon of 4/16 and thus didn't go ashore until the following morning.

Today we actually had tea and goodies that go with it. Jack Swenson, a National Geographic Photographer, who leads photo safaris in various parts of Africa together with his wife, Rikki, gave a powerful presentation on the topic of his 'claim to fame'. He is a descendant of the De Wolf family. He discovered through genealogy research that his family made its fortune in the slave trade, something that troubled him greatly. Every group has at least one jerk in the middle. After he was done one passenger took him aside (in earshot of me) and said: 'you know, you shouldn't feel guilty. Think about the slave owners who had to feed and clothe these people'. If I had had an ak-47 I would have blown his brains out. People like that just leave me breathless.

Quite a few dignitaries came aboard and joined us during our cocktail hour, including some from the U.S. Embassy, Liberia's Deputy of Tourism Director and the VP, Joseph Boikai, who gave a very thoughtful speech about the future of his country..

It was very insightful to hear comments from one couple in particular that had lived here in the 80's as part of their Peace Corps mission. They loved the people and while here revisited their old neighborhood and appear to be filled with hope that things will improve. To me the city looked mostly depressing, I'm afraid. It will take years and years to rebuild

Our city tour confirmed my worst fears based on what we had heard. The bright spot was the visit to Obaa's School. It is always wonderful to meet people who take on immense challenges in the eye of the impossible.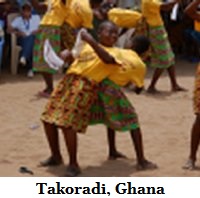 Hi,
We got up early for a long day of sightseeing along the coast. The stand out visit was to the Cape Coast Castle, a World Heritage sight from which hundreds of thousands of slaves were dispatched through the Door of No Return. A place of total horror and one President Obama visited in '09. It was a haunting experience to visit the dungeons were the captured slaves were held and then see the fine quarters of the overseers.

The beach below is a beehive of activity. Fishing boats come and go. Nets are being repaired. Life goes on .........

Dr. Kwame Nkrumah wrote: 'we face neither East nor West; we face forward'

Tonight we set sail for Liberia.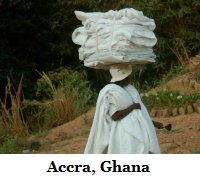 Hi,
Our introduction to Ghana began with a police escorted visit to the Shai Hills Game Reserve. We were completely unprepared for the motorcycle cop in front of us who forced cars to the side of the road to provide priority passage for our buses. On one hand he provided maximum entertainment with his bold actions and on the other we were keenly aware of how this was hardly the way to win the hearts and minds of the local people. It left us feeling quite mortified at the same time. We recognized, however, that this was out of our hands. The police insisted on providing this 'service'. Totally embarrassing, if you ask me.

In the game reserve we saw virtually no wildlife or birds. This nature reserve is situated on the territory traditionally claimed by the Shai people of the Ga-Adangbe ethnic group. Many of the sites here are still being used ceremonially by these people (thankfully we got no details about that). In spite of the lack of wildlife viewings I found the Savannah grasslands lovely to look at.
Our visit to the Aburi Botanical Garden, established in 1890, was really pleasant - and shady with immense deciduous and palm trees. Believe me, when it's HOT you are looking for shade all the time.
We had chosen the above options in spite of the fact that one of the other tours offered would have given us a chance to see the casket makers. It was quite a struggle for me to make the decision to skip this because I had seen a memorable episode about this on the Amazing Race. Those caskets are something most unusual. Google this to learn more and see some of the pictures.

Tomorrow we will be in Takoradi, Ghana

Hi,
When we docked we saw the Mercy ship. Later we met the captain who explained their mission to us. These are very admirable and dedicated people.

On the dock we were greeted with yet another spectacular performance. The costumes couldn't have been more gorgeous. It was hard to break away from that to get to our first stop: the Fetish Market. We were forwarned and it wasn't pretty. Not just the sight of so many dead animals and/or their parts but also some live ones. I felt quite sickened.
After that it was off to the Artisan's village. Everything from iron works, pottery, wood carving, leather works and so forth could be seen there while the artists were working on their item of expertise. Very enjoyable to walk around there... and trying not to get tempted into buying anything (moan).

After lunch we visited a school and brought them some supplies. These kids were clearly eager to learn, enjoyed meeting us and delighted us with their singing. I could never have this kind of a visit in an American school.

Our final stop was the Akato Viepe Village where we met the local Chief and his royal court. This was another stunning event. During the dancing a little girl wound up sitting on my lap. She never uttered a word. When I touched her skin I was surprised how cool it felt when I was sweating intensely from the heat. Being able to walk around this large village was most interesting. Hopefully the pictures reflect that. These people came from Egypt a couple of hundred years ago.

After dinner King Mensah sang for us. He has a most unusual vocal range. Very personable guy.

Tomorrow we will be in Accra, Ghana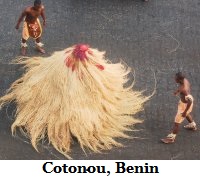 Hi, Part 1
After reviewing my photos I came to the realization that I had to split up our excursions.
Benin is a sub-Saharan nation, highly dependent on agriculture, with substantial employment and income arising from subsistence farming.
During the colonial period (17th - 19th century) Benin was known as Dahomey.
After breakfast and watching that dynamic group on the dock we finally broke away and headed for Lake Nokoue to visit the fishing village of Ganvie built on stilts. It has a population of around 30,000 Tofinu people.

Watching these people in action, women, men and children alike, was astonishing and impressive. When we arrived at the village we were greeted by a world class brass band - and those guys could also dance. The dance moves include the swinging and flapping of arms in a chicken like fashion (if I'm describing it right).

The sky was grey but the people we saw couldn't have been more colorful. My brain was in overdrive as I tried to absorb all of the sights and sounds. Loved every minute of it.

Part two brings us to the Sacred Forest. Just wait till you see those pictures .............

Part 2
Hi, The Sacred Forest of Kpasse is in a residential area. The minute you enter you are in another world. It is more like a park than a forest and lives up to being sacred - complete with statues of voodoo gods and sacrifices mixed with wild and enchanting tales. The entrance is flanked by leopard statues, the emblem of the royal house of Kpasse, symbolizing power.

Everything from the welcome ceremony to the dancing and singing was almost intoxicating and I took literally hundreds of pictures.

Kpasse ruled Ouidah in the 16th century and turned himself into a large Iroko tree to avoid capture by King Abomey.

I consider myself very very lucky to have been there.... a place seemingly far removed from the outside world. Once you step outside you go, 'wow, did I really see that?'

Tomorrow we will arrive in Togo and we have quite an agenda for that day.