"Gorillas in the Mist"
Your Travel Source has found a wonderful tour company that takes people to Rwanda to go trekking to see the Gorillas made famous by Dian Fossey. The company is Terra Incognita Ecotours and the owner, Ged Caddick will be leading the tour which is limited to 16 people. This tour is in support of the Mountain Gorilla Veterinary Project.

When was the last time you had a once-in-a-lifetime experience?
Join us in Rwanda, as we twice trek Mountain Gorillas. In addition, first we will visit Akagera National Park in the east of Rwanda, bordering Tanzania, with its beautiful undulating plains, its woodlands and sprawling lakes and wetlands. The game in the park is steadily increasing, with elephant, buffalo, giraffe, hippo, crocodile and many different antelope regularly seen. Akagera National Park also has a good selection of savannah birds and raptors, and is particularly rich in water birds.

The highlight of the ecotour is, of course, tracking the endangered Mountain Gorillas in Parc National des Volcans (PNV) in the Virunga volcanoes in the northwest of the country. Seeing some of the remaining 700 mountain gorillas is a fantastic and awe-inspiring experience. PNV currently has five habituated gorilla families living in the afro-montane forests on the southern slopes of the Virunga volcanoes.

This is an Ecotour that will make a difference to you, and to the areas we visit. We will donate to the important
work of the Mountain Gorilla Veterinary Project.

GORILLAS IN THE MIST
In the realm of the Mountain Gorilla

On this ecotour we stay 2 nights in Akagera Lodge, overlooking Lake Ihema and then 4 nights staying at Virunga Lodge,
perched on a hilltop with dramatic vistas of Lake Bulera and Lake Ruhondo, and the imposing Volcanoes National Park
in the distance. Your tour leader is Gerard "Ged" Caddick, owner of Terra Incognita Ecotours (see below).





D

ay 1:

Depart USA on flights headed for Rwanda. Dinner aloft. (D)



Day 2:

Europe to Kigali, Rwanda
After our overnight flight we connect with ongoing flight to Rwanda. We will arrive in Kigali, Rwanda late this afternoon and we are met on arrival and transferred to the Serena Kigali Hotel.


Overnight at Serena Kigali Hotel - B, L, D

Day 3: Akagera National Park, Rwanda
A leisurely morning, and after a relaxed breakfast we depart for Akagera National Park in the east of Rwanda bordering Tanzania. We should be at the Lodge in time for a buffet lunch and once we have settled-in we will have chance for a "Game Drive" before sunset. We shall enjoy a welcome dinner this evening back at the Lodge overlooking Lake Ihema.
Overnight at Akagera Lodge - B, L, D


Day 4: Akagera National Park
An early morning game drive in the Park should reward us the chance to see a variety of birds, elephant, hippo, giraffe, spotted hyena, buffalo and crocodiles. We shall plan on a short siesta around midday, and later this afternoon we may enjoy a boat ride on Lake Ihema, which is very rewarding for seeing the large number of hippo, the huge Nile crocodile and many birds.
Overnight at Akagera Lodge - B, L, D

Day 5: AkageraNational Park to Virunga Volcanoes
An early start this morning as we head towards Kinigi in the north-west of the country. Along the way we will stop for lunch in Kigali, and shall visit the Genocide Memorial, where we shall hear stories of survival and the heart-warming stories of recovery and rebuilding hope. The journey north goes through the beautiful terraced hillsides that characterize much of Rwanda's landscape, gradually climbing to the base of the awesome volcanoes, sometimes with as many as five peaks visible. We settle in this evening at our base for the next four nights, the dramatically located Virunga Lodge, overlooking the lakes of Bulera and Ruhondo.

This evening we meet the Rwanda-based Veterinarians from the Mountain Gorilla Veterinary Project, and hear about their efforts to protect the Mountain Gorillas. They will join us for cocktails and dinner, and they will share with us
some of the stories, challenges, and successes of their important work.
Overnight at Virunga Lodge - B, L, D

Day 6: Volcanoes National Park – Gorilla Trek
Today we take our first Gorilla trek! We will arise early this morning and drive to the headquarters of Volcanoes National Park where we will meet our trackers and head up the slopes of the Virunga Volcanoes. We may visit one of the five habituated groups. No more than EIGHT people may visit any group on any given day, so we can rely on having an intimate experience with our group, whichever group we visit. Tracking the gorillas through the lush forested slopes of the Virungas is an absolutely magical experience. If you are lucky you can get to the gorillas, spend an hour with them, and be back at the base in time for a late lunch! Some gorilla families however are more elusive, and tracking can take a full day, especially when it is wet and muddy, so you should be able to hike for two to three hours on steep mountain trails.
Overnight at Virunga Lodge - B, L, D.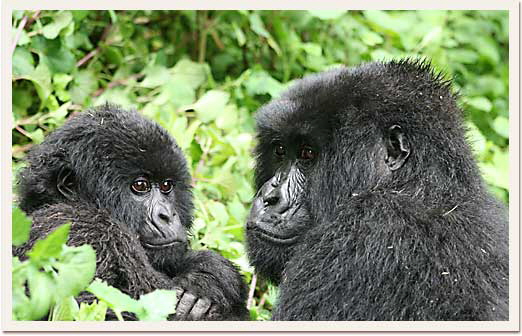 Day 7: Dian Fossey Grave, ex-Karisoke Research Center
We shall have the chance to visit the grave of Dian Fossey today, located next to that of Digit, her long-time favorite gorilla. The grave site is located at the former Karisoke Research site where Dian spent some twenty years studying the Mountain Gorillas, and the trek to the site is quite spectacular, passing through bamboo forest and montane forests – indeed the trails are criss-crossed with the tracks of forest Buffalo and Elephant! We may see all manner of wildlife as we make our way up and down to Karisoke, nestled between the volcanic peaks of Karisimbi and Visoke.
Alternatively we can relax at the lodge today, visit some of the local villages, or perhaps trek to see the endangered Golden Monkeys that make this area home. In the later afternoon today we may drive into Ruhengeri to visit the Mountain Gorilla Veterinary Project where we get a behind the scenes tour of the facility and hear more about the complexities of providing health care to wild animals!
Overnight at Virunga Lodge - B, L, D
Day 8: Volcanoes National Park – 2nd Gorilla Trek
Today is our second chance to go trek the Mountain Gorillas, and we now know what to expect! We should be able to visit a different Gorilla group than our first visit; indeed, the more athletic of us may even try to visit the Susa group which usually requires the longest and most challenging trek. After returning today we may have time to visit the local market or perhaps the lake. Farewell Dinner tonight with the Mountain Gorilla Veterinary Project Field Staff.
Overnight at Virunga Lodge - B, L, D
Day 9: Virunga Lodge to Kigali, Rwanda and flights home.
Breakfast and pack, lunch at Lodge or at airport, depending on flight schedule. Transfer to airport in the afternoon. B, L
Day 10: Back to U.S. We arrive back home, with all meals aloft today.
Group size is limited to 16 participants. Call for pricing. B = Breakfast; L = Lunch; D = Dinner)
Included: Services of an Ecotour Leader and English-speaking local guides; all transportation within Rwanda;
bottled water; all accommodations; gratuities; meals as specified; and complete pre-departure information.
Not included: International round-trip airfare, Insurance fees; visas and passport fees; medications; items of a
personal nature such as laundry, phone calls, alcoholic drinks, etc

For more information on this amazing journey, call Chris Meny at Your Travel Source at
or call (800) 597-0594

Not interested in gorillas? Ged has some other interesting journeys: Tracking pandas in China, looking for
orangutans in Borneo, going to the Galapagos, Madagascar, Belize, Costa Rica and Peru.